On April 1st, Primate's talented development team are set to debut in a world-first reality show, 'The Real Developers of Canonmills', having been trailed by a film crew from an exclusive streaming platform for the past few months.
Hollywood aspirations
Set to give viewers an insight into the trials and tribulations of agency life, the show focuses on what it actually takes to force developers to deliver a successful digital project. Heated command line arguments, tantrums over text editors, laptop jealousy, and blatantly ignoring direction from Project Managers are just some of the dramas in store.
Managing Partner, Rebecca Mcintyre-Smith, was beaming after her successful pitch to the well-known streaming platform. "I just remember walking into the office one day, seeing our dev team arguing over what mechanical keyboard they were going to make us buy them next, and thinking 'what a bunch of divas'. A quick video recording on my phone and, 48 hours later, we had a contract in the bag."
When asked his opinion of the show, Managing Partner Gordon McLachlan said "I can't believe we're going to let everyone in on the secret. We have absolutely no idea what we're doing. This series will get canned faster than Houseparty post-pandemic."
Colin Bonner, Senior Developer at Primate, spoke of his Hollywood aspirations. "I've loved reality TV since Sharon Osborne invented the concept so to star in one is a dream come true. I can't wait to be famous, get my very own show, and leave this hellhole behind."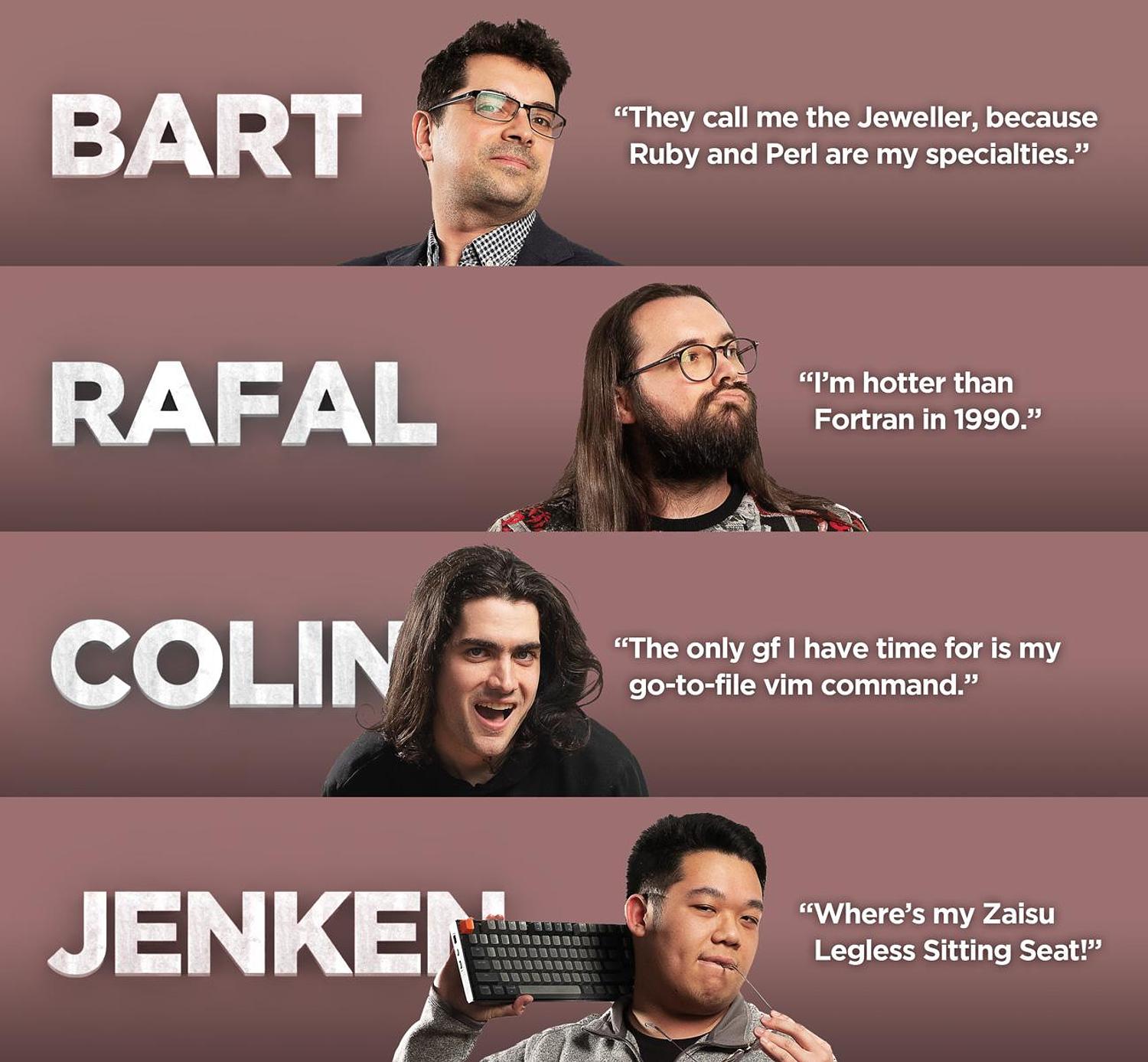 Delightful diva drama
Episode one of The Real Developers of Canonmills, 'Keep Calm and Query On', follows Jenken being thrown in at the deep end after Technical Director Bart unexpectedly skips town for a week to attend a Warhammer convention, leaving him to deal with every single project.
Tensions rise when Jenken makes the startling discovery that Bart's work contains a database update incompatible with the records currently in production, leaving him with no option but to beg Colin and Raf for advice.
Colin can be heard quipping, "Come on Jenken, it's so easy: just remove the uniqueness constraint and add a validation to handle it until we can sort the rest out in the next sprint. What are you, data-basic?".
Before Jenken could even respond, Raf demands that he, "Just delete the corrupt user data on production. It's only an error for free-tier users anyway. Let the support team deal with their moaning later. You've been working here for a week now, make the call already!" Poor Jenken.
The streaming platform's executive producer - who wishes to remain nameless - said: "Dev's are like the new royal family, getting away with murder, doing things no one understands, everyone wants to know what they're secretly really like."
Next time on The Real Developers of Canonmills
Join us next week when all hell breaks loose as Raf discovers that Colin has been using tab delineation instead of double space for code indentation, that Jenken has ignored every Figma file sent by the Creative team, and all four refuse to build what the client actually wants.
You don't want to miss it!